Understanding the TutorMe Higher Education Logic Model
10-Second Summary
TutorMe's Higher Education Logic Model aims to elevate academic support, driving improved graduation rates, equitable learning outcomes, and student confidence through personalized, technology-enabled tutoring.
The college experience is being transformed. With rises in technology to support a growing number of online students and the challenge of supporting an incredibly skill-diverse incoming student body, there is an urgent case for robust and accessible academic support that's readily available for every student. 
While many campuses offer excellent in-person tutoring, these programs come with their limitations – primarily in access. Nathan Grawe wrote in The Agile College that colleges and universities can't behave as if tomorrow will be similar to today. We're already seeing a shift in college success rates and the rising need of accessible academic support, and now colleges have the opportunity to partner with technology to proactively rise to the challenge and meet the needs of their campuses. 
With technology, colleges have the capability to now offer academic support, in the form of on-demand tutoring, to expand their office hours and connect every student to a qualified tutor. However, when selecting a tutoring platform to enhance your campus support program, it's imperative colleges consider a platform's commitment to efficacy so they can feel confident their choice will meaningfully impact outcomes. 
To provide confidence and give insight into the research driving the TutorMe tutoring platform, the GoGuardian Education Team developed the TutorMe Higher Education Logic Model. 
The TutorMe Higher Education Logic Model
Through TutorMe, students have access to personalized support from qualified tutors, whenever and wherever they need it. The power of our platform is centered on human connection, where every student receives the 1:1 support of a tutor dedicated to encouraging and engaging a student on their individual learning journey – from the K-12 classroom to the college lecture hall. 
The GoGuardian Education Team, leveraging insights from extensive scholarly research, has created the TutorMe Higher Education Logic Model. This conceptual framework illustrates the pathway through which the TutorMe platform enhances graduation rates, equitable learning outcomes, academic performance, and student metacognitive abilities and confidence.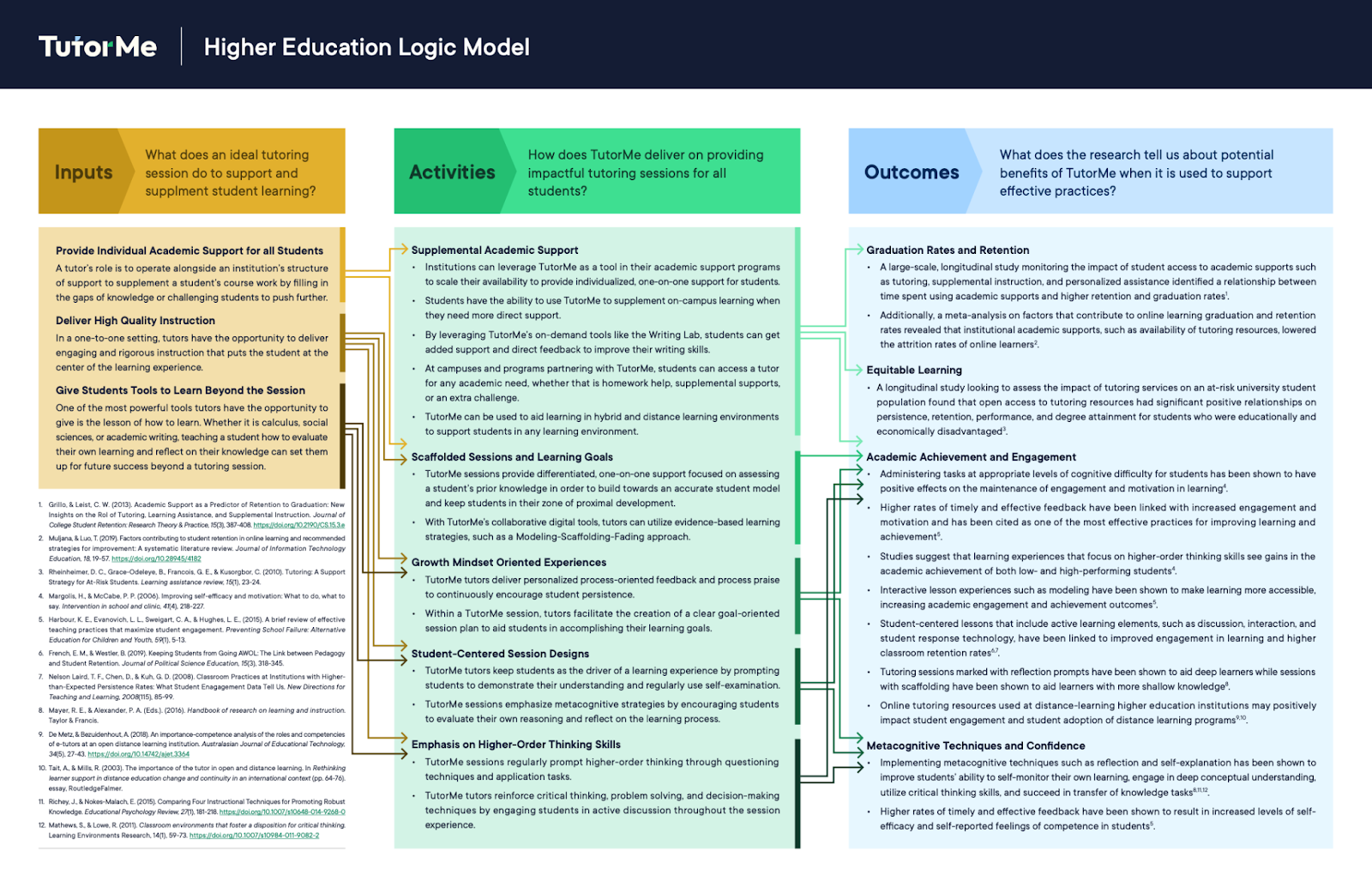 What is a logic model?
A logic model is a conceptual framework that represents the expected outcomes of a program or product. It identifies key components of the program or product experience and shows how they logically impact the desired outcomes. The TutorMe logic model has three core components: inputs, activities, and outcomes.
‍Driven by research 
To create the TutorMe logic model, GoGuardian's Education team conducted a robust literature review that pulled relevant articles from the fields of instructional technique, tutoring practice, and academic intervention strategies. 
Student-first approach to tutoring 
While the research clearly backed the need for tutoring on a campus, our research dove further into how the quality of that tutoring could further the impact on student learning. Our research determined the following variables in tutoring can lead to the highest positive learning outcomes: 
Tutoring that is at the appropriate level of difficulty for the student
Quality and timely feedback 
Emphasis on higher-order thinking skills 
Interactive lesson experiences 
Student-centered lessons that include discussion, interaction, and student response technology 
Reflection prompting
Online tutoring resources for distance-learning higher education institutions 
TutorMe's logic model details how the implementation protocols and instructional strategies employed in a TutorMe tutoring session have been designed to systematically incorporate these key principles.
Ready to take action? Schedule a call today.
Inputs: Optimal tutoring practices
Based on extensive educational research, the inputs column highlights the core components of a tutoring session optimized to support and supplement student learning.
Provide individual academic support for all students 
Tutors support everyday coursework and learning by operating alongside an institution's structure of support and filling in the gaps of knowledge or increasing rigor through the usage of 1:1 tutoring or asynchronous writing support with TutorMe's Writing Lab.
Deliver high-quality instruction 
In a one-to-one setting, tutors have the opportunity to deliver engaging and rigorous instruction that puts the student at the center of the learning experience.
Give students tools to learn beyond the session
One of the most powerful tools tutors have the opportunity to give is the lesson of how to learn. Whether it is calculus, social sciences, or academic writing, teaching a student how to evaluate their own learning and reflect on their knowledge can set them up for future success beyond a tutoring session.
Activities: How TutorMe implements those core components 
The activities column of the TutorMe Higher Education Logic Model details the characteristics of a typical TutorMe session that enable the delivery of optimal tutoring practices for all students.
Supplemental academic support
Institutions can effectively utilize TutorMe as a supplemental tool in their academic support programs. With the capability to provide individualized, one-on-one support for students, TutorMe scales the availability of academic support. Students can use TutorMe to supplement their on-campus learning, especially when they need more direct assistance.
Furthermore, TutorMe's on-demand tools like the Writing Lab offer students the opportunity to receive direct feedback and support to improve their writing skills. In partnership with TutorMe, campuses and programs can provide their students with access to a tutor for any academic need, be it homework assistance, supplemental support, or more challenging tasks. Importantly, TutorMe can enhance learning in hybrid and distance learning environments, supporting students regardless of their learning environment.
Scaffolded sessions and learning goals
TutorMe sessions are designed to provide differentiated, one-on-one support. The approach is focused on assessing a student's prior knowledge, thereby constructing an accurate student model and ensuring students remain within their zone of proximal development. TutorMe's collaborative digital tools enable tutors to adopt evidence-based learning strategies, such as a Modeling-Scaffolding-Fading approach.
Growth mindset 
TutorMe upholds a growth mindset through its tutoring practices. The tutors offer personalized process-oriented feedback and praise to encourage continuous student persistence. Within each session, tutors facilitate the creation of a clear, goal-oriented plan to guide students towards accomplishing their learning goals.
Student-centered session designs
Keeping the student as the focal point of the learning experience, TutorMe tutors prompt students to demonstrate their understanding and regularly use self-examination. The sessions place an emphasis on metacognitive strategies, encouraging students to evaluate their reasoning and reflect on their learning process.
Emphasis on higher-order thinking skills
TutorMe sessions prioritize the cultivation of higher-order thinking skills. The tutors regularly prompt this type of thinking through questioning techniques and application tasks. Additionally, they reinforce critical thinking, problem-solving, and decision-making techniques by engaging students in active discussions throughout the session.
Ready to take action? Schedule a call today.
Outcomes: The results of implementing on-demand tutoring to expand academic support structures 
The outcomes column of the TutorMe Higher Education Logic Model summarizes the likely results of a TutorMe session based upon the consistent application of the activities proven by previous research to drive student outputs.
Graduation rates and retention
Research has found that providing academic support such as tutoring, supplemental instruction, and personalized assistance can significantly increase retention and graduation rates. A large-scale, longitudinal study highlighted a relationship between time spent using these academic supports and enhanced student outcomes. Furthermore, a meta-analysis investigating factors that contribute to online learning graduation and retention rates discovered institutional academic supports, like the availability of tutoring resources, could effectively lower the attrition rates of online learners.
Equitable learning
Open access to tutoring services can have a transformative impact on at-risk student populations. A longitudinal study aimed at assessing the influence of tutoring services on such a demographic found significant positive relationships with student persistence, retention, performance, and degree attainment. This underscores the importance of providing equitable learning opportunities for students who may be educationally and economically disadvantaged.
Academic achievement and engagement
Administering tasks at appropriate levels of cognitive difficulty can have a positive effect on student engagement and motivation in learning. Studies have shown timely and effective feedback can significantly increase student engagement and motivation, leading to improved learning and achievement. Moreover, learning experiences that focus on higher-order thinking skills have been linked to gains in academic achievement for both low- and high-performing students. Interactive lesson experiences like modeling can make learning more accessible, resulting in an increased academic engagement and achievement outcomes.
Metacognitive techniques and confidence
Implementing metacognitive techniques, such as reflection and self-explanation, has been proven to enhance students' ability to self-monitor their learning. These techniques foster deep conceptual understanding, critical thinking skills, and success in the transfer of knowledge tasks. Furthermore, providing timely and effective feedback has been linked with increased levels of self-efficacy and self-reported feelings of competence in students, further fostering their confidence in learning.
What conclusion can be drawn on the importance of on-demand tutoring for higher education students? 
Drawing from an in-depth logic model established on a foundation of high-quality, pre-existing research, we've formed a compelling rationale for the efficacy of TutorMe in higher education settings.
When institutions of higher learning integrate TutorMe into their academic support structures, they can anticipate several positive outcomes. These include an increase in student graduation and retention rates, the enhancement of equitable learning outcomes, and noticeable improvements in academic achievement and student engagement. Moreover, TutorMe serves as a tool to foster students' metacognitive abilities and bolster their academic confidence.
Moving forward, TutorMe is committed to building upon our evidence base to further attest to our effectiveness. We plan on exploring various study designs that will provide a more comprehensive understanding of the diverse ways TutorMe contributes to student success in higher education.
‍
Learn how TutorMe can support your campus. Schedule a call today.
‍
‍